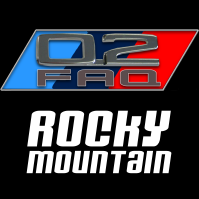 About This Club
A local hangout for those of us 02ers in the Rocky States! (CO, MT, ID, WY, UT, AZ, & NM)
---
What's new in this club

Some D4C pics. Tesla charger didn't make the fuel gauge rise.

Daily drives and route maps. Dig out those lean jets and come on down, err up. http://drive4corners.com/wp-content/uploads/2020-Event-Routes.pdf Headquartering at the Grand Lodge, Crested Butte, D4C rate $89/nite.

Duane Jeanotte

joined the club

I've got a York air conditioning compressor that I'll never use that's free for local pickup near Berthoud. It spins freely and includes the large bracket for 2002 mounting. Other than that, I can't vouch for it's condition. If nobody claims it in a few weeks, it's scrap metal... PM if you want it. First come, first served.

Evening all, sorry for the off topic post. My dad is looking for someone in the Denver or Summit County areas to install a new convertible top on his Honda S2000. Anyone have any recommendations? Thanks much.

Hello All, I want to get my car upgrade it, Am looking for a good complete running M10 engine for my 73 to use while I get my original engine rebuilded. Also a 5 speed tranny and a LSD diff. Anyone know of a good machine shop, engine builder familiar with our engines in the Colorado Springs area? Andres

Hello All, I want to get my car upgrade it, Am looking for a good complete running M10 engine for my 73 to use while I get my original engine rebuilded. Also a 5 speed tranny and a LSD diff. Anyone know of a good machine shop, engine builder familiar with our engines in the Colorado Springs area? Andres

Yeah, the DMV should tell you if you need one based on your address. It would be nice if you didn't... If you do, you need the stuff that was originally on the car, and as Cal mentioned, it has to pass the tests it did back in the day. You should only have to pay once, so if it fails the first time, you can come back and not have to pay a second time. Might have to lean the crap out of it to get it to pass. I've heard different fuel can help it run clean, too. If it's a swap, it has to pass emissions for whatever is newer, the car or the motor- so whatever emissions were on the newer motor need to be on the car and working ish. I may or may not have had an e46 wagon with a rather complete e46m3 swap. It had all the m3 emissions stuff. They never realized it was a swap- but it passed emissions for the m3, so it would have been fine- I just didn't have to do all the paperwork. Having said that, if your m20 has carbs, they might not realize it's not stock... They freaked out about my '76 having fuel injection- had to jump through some hoops, but it's fine. Damned thing passes emissions in CA, fully legal...

@irdave can offer info it you have to test.

according to https://www.colorado.gov/pacific/dmv/gas-vehicles , "portions of arapahoe county" require emissions testing. But wait... what needs to be tested and how often is shown there. The details look like they were written by someone who left the IRS because the tax code was too simple. Not mentioned on that website, at least where I looked, but per discussions years ago, I think that if a test is required, the inspector will look for the emissions equipment originally on the car, and it will have to pass the tailpipe test at a level that varies with year of manufacture. With a different than original engine, I have no idea... Others with modified cars will no doubt speak up later.

Hey guys, I live in Unincorporated Arapahoe County, trying to figure out what emissions testing will mean for me. Pretty sure, the 1976 year qualifies as needing to pass emissions here. What will that entail? Catalytic Converter, 02 sensors and a proper tune on the m10? What if I swap an m20 into the car? Thanks,

we'll fit the first bits on the new shiny black parts starting on Friday

Damn Cal, that looks beautiful! It's going to look great against the orange. When are you guys getting started putting it back together?

That looks great! I went with Eastwood black chassis paint (rattle can) to save a few bucks but yours looks perfect. Makes me question my decision.

Powdercoating complete. $ 450 total for everything in the picture, from greasy rusty parts to completion including a bit or straightening on the front subframe. Almost a full month to get it done.

Hey- I have also registered for this event - I've wanted to go for years, but the motor was not running well... that has been remedied so I AM GOING this year. Sadly, not in my 2002, which was sold and is reportedly RIP (Rusting In Peace) in Arvada. Will take the E28 535i. I am also donating a door prize or two from 'Mo Brighta Mo Betta' for the event - lighting upgrades for 2002 and other vintage models like E9 coupes, E21 and E30 threes, E12 and E28 fives, E24 sixes, E23 sevens, and of course all manner of earlier cars with round tails. I am open to suggestion from anyone, especially those planning to attend. So far, I have been watching the attendees list of car year and model - looks like only about seven candidates... pretty good odds for winning a prize, eh? There is a drive to the event from Denver to BV to Taylor Park reservoir and then to CB, I am planning to drive this as well, getting away from superslab is a primary goal of mine. The route looks very scenic, and was recently paved! Anyone going and want to make a suggestion for lighting upgrades? Andy

MoBrighta

joined the club

Hello Gurtner, The deal on the Recaros fell thru so I decided to keep it stock. If you want to sell the chrome seats hinges am interested. Welcome to the board, Am new to the forum and the BMW 2002 life style, so I been doing a lots of reading to keep my new to me investment on the road. Andres.

I would be interested in your old seats if you are replacing them with the Recaros. I have a '72 in the same color combo as yours. I am in Denver but could head down to the springs. I just made this account so I can't send PMs, but send me a message. I also saw that your looking from the chrome seat hinges which I have...

Gurtner

joined the club

I found a 1973 2002 on a dealer in Denver that was selling the car on ebay Am very happy with the purchase now I want to fix it up a little. If any body in Colorado have a good set of old school Recaro for sale let me know. Condition ok,at least all the foam and guts in good condition, most likely the will be recovered anyways, I doubt I will find a matching color to my interior. Am in Colorado Springs.

Well damn. Ping me sometime, I'm just north of Fort Collins... 970.222.9597

I get to Berthoud every day! just by waking up. so far...

Man. You guys make it up to Berthoud, let me know. We can meet in Loveland for a beer / food / tour of my buddy's shop (SCR Performance- they always have cool race cars in there.)

Powdercoat subframe parts you say? I just dropped a pallet full of under-parts at a local shop in Berthoud including front and rear subframes. I haven't gotten a price yet but past work has been reasonable. Timeframe depends on what they have going on at the moment, I anticipate about 2 weeks this time. I haven't has them do anything ultra critical, but they do production work for at least one medical device company, so I assume excellent work is possible. I'm looking for function this time- subframes, control arms, etc. will be punished on the road, so perfect appearance isn't really needed. Past work that they've done for me was very good, but it was always fresh new steel. Nuthin' new in this stack of parts, so we'll see how their sandblasting and prep work are. Since it's a local small shop, smooth talking front office people wearing ties are not on the payroll. In fact, there's no front office.... K&K Painting 245 Bunyan Ave Berthoud 80513 (970) 532-3885

There are a couple of places up here, I haven't used either. There's also Spectrum Paint and Power in Boulder... https://www.spectrumpaintandpowderworks.com/ They say they do other stuff. People getting a custom paint job on their bicycles are typically a VERY anally retentive group, so they're probably pretty detail oriented.

I'm located in Denver but if it's a quality shop, I'm willing to travel.