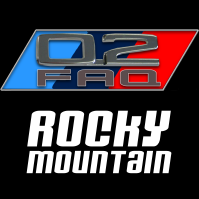 About This Club
A local hangout for those of us 02ers in the Rocky States! (CO, MT, ID, WY, UT, AZ, & NM)
What's new in this club

I'll get Jared's phone number for you

Going to have this on there all the time... Cal says,"I'm going to a meeting where my car is the primary interest. Everywhere, everyday." TBF, hard to go anywhere without getting asked about a 2002, even in my car.

In case others travel this path- I submitted for a YOM license plate authorization a week ago. Filled out the form, got it witnessed, photocopied my insurance and current registration for the car, exactly as the form states. It came back yesterday as rejected because I did not provide a photocopy of the license plate to be used. A requirement not mentioned along with all the others on the form, or anywhere on a CO website that I can find, sigh... So, I made a full size photocopy of the plate at fedex today (legal size paper to fit it full size) and will send that in tomorrow. Your move, CO DMV.... There is NO DMV fee for this YOM plate thing (please don't tell your state representative or the governor). I am still not sure if one or two plates must be displayed, there's contradictory heresay online and I didn't see it mentioned by the DMV. You must carry the authorization with you in the car and have the "official" plates and registration along for the ride too. I don't see anything that says it expires. You are supposed to use it only for: Motor vehicles using such plates may be used exclusively for: Driving such vehicle to and from assemblies, conventions, or other meetings where such vehicles and their ownership are the primary interest. Demonstrations, parades, and when their operation on the street and highway will not constitute a traffic hazard. Traveling to and from and while on local, state, or national tours held primarily for exhibition and enjoyment. So quick change hardware would be an advantage (think early James Bond vehicles...) No idea how this would fly with out-of-state Polizei.

Nate - Mark Hutto is your guy for this. He did a FANTASTIC job dialing in my dual Weber 45's! Yes, he may be a bit of a wait but well worth it in my opinion. PM me if you need his contact info. Best, Eric

Hey guys, Can anyone recommend a shop / person for tuning dual weber DCOE 40's? Ive done some baseline work myself and it runs OK but at this point i'm willing to shell out some cash to get them dialed in. Ive worked with Mark Hutto a bit in the past but I know he's pretty popular and gets backed up. I'm located in the Denver area! Thanks -Nate

As title states, I am looking for a local '74-'76 Front Nose Panel - doesn't need to be perfect as it will be used for wall art. Please PM me if you have one you're willing to part with. Thanks!

Just saw this- Glen Shelly / Alex is a stand up kind of guy. I'd expect his descriptions to be accurate, if focused on cosmetics. He's sold a couple of cars for me.

Very glad I didn't see this till now. probably would have resisted but.....

As of 5:37 PM today, this post indicates "SOLD" My wife would have used a very large rolling pin... more painful perhaps, but there may be a chance of survival.

In Greeley, buddy just tipped me off- but I would get shot with one of my own guns if she came home to 2 more cars... https://www.facebook.com/marketplace/item/727920711471369/

OK, I looked at the turquoise (turkis) 1973 2002tii on their site. This is the one you want the PPI on, right? You will likely want new headlights to replace the current sealed beams. I have a pair of Marchal Amplilux that will do well- with the stock headlight relay I can do the mod to light both lamps on high beam. I had these lights on my '72, and with the right lamps these can be SUPER BRIGHT! The rear lights are called 'presentable' - meaning they work... with the right upgrades they will work Fabulously! Bigger and brighter, and visible from a distance (versus difficult to see at all in stock form). And with the dual tail lamps on each side, you will reliably have both tail lights working even if a lamp fails (with stock lights, one will go dark - kind of dangerous). It is even possible to add auxiliary tail + brake lights made from a period rear fog light; this really boosts your rear-ward visibility! We can talk - the last thing you want with a nicely restored 2002tii is to be rear ended due to poor rear lighting. Just my opinion... Andy

Hello, I might be able to help out. I have been up to Glen Shelley, they are a ways up the pike but I did buy some lighting parts. They were in good condition, fairly priced, and the shop looks well run. Do you want to offer an honorarium to the mechanic? I can ask one that I have had work done by over the last 40 years, so I trust him totally. I will touch base to see if he knows their reputation, and if he's willing to visit. What car would he be looking at? I don't expect there is more than one 2002 tii for sale, but it may help. By the way (shameless self promotion), I do lighting restoration work on 2002 rear lights, just in case you want to 'be seen and not hurt'. Upgrades, too, for more light output, larger lighted area, and higher reliability. Be glad to evaluate them for you. Andy Golden, CO

I am looking at a 2002tii at Glen Shelly Auto Brokers in Erie, CO. Does anyone know a local mechanic that could do an on site inspection? I live in South Carolina so I need help. Also, any info on Glen Shelly?

Sorry, didn't see the date on this! Obviously behind the times🙄

Hey, there is an upholstery shop called Autoweave in Denver area. Not sure if they do tops, but could steer you in the right direction. Good guys!

I ended up getting it down to about an 18" thick stack. 'I'll just hold onto the few keepers' was the idea... lol

Hardware or magazines? (I'm guessing the latter, and I just tossed a bunch of 'em myself). Tom

I'm in Franktown,come getum'. ASAP, Some quite old. Dan 719 688 1931

Looking to sell my 1973 2002. Car is good driver quality with many upgrades and a trunk full of new/spare parts. Previous owner repainted the car in its original Fjord blue with a blue cloth interior. Many upgrades, including wood Nardi wheel, stainless brake lines, 15"Panasport wheels and Khumo tires. Center exit exhaust, upgraded Ireland Engineering suspension, three point harnesses and new Carcraft cover. Minor rust showing on the lower passenger door and 2-3 paint blemishes from the previous repaint. Car maintained by 2002 specialist Mark Hutto in Westminster CO. Loved this "Little B" but circumstances change. . Contact Rip at

[email protected]

$17,500

Didn't think so.... OK, to scrap this coming weekend

Andres -sadly not down in the Springs but I used "Area Automotive Machine" on 64th and Federal (north of Denver) and they were absolutely great. Would highly recommend them even with the hike for you to get there... I had them: -regrind crank -bore cylinders -deck head/block -hot tank block and remove studs/freeze plugs -reassemble head with all new parts. -refinish flywheel All in it was about $1200 and the engine was in their shop for 2 months.

Some D4C pics. Tesla charger didn't make the fuel gauge rise.