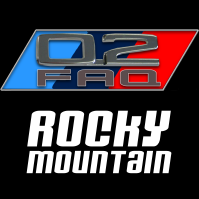 About This Club
A local hangout for those of us 02ers in the Rocky States! (CO, MT, ID, WY, UT, AZ, & NM)
What's new in this club

I'm trying to think of people I know down there, and will think more. There's a shop, don't know them personally, http://greggearhead.com/index.html but he's on here periodically. You can ship them to me in Fort Collins, that's a bit of a drive, but they could stay here for a bit until you get them. Side note; sell the pre-runner and get a 4wd taco while you're out there. The 2wd will have more value there and none here, and the 4wd will have less value there and way more here. I don't think the Springs gets a LOT of snow, but it gets some. And if you want to get out of town at all..

Need some help with anyone living in Co Springs. I'm moving from MD to the Springs in late July and the auto shippers have give me a window of 19-23 July when they can pick up my tii and E30 to ship them to the Springs. There is a strong probability that the cars will arrive in the Springs before I do. We're not arriving in the Springs until Sun 1 AUG. Is there anyone available to store my cars until I arrive? Hopefully someone has a empty carport, garage, etc.. to keep my tii out of harms way of a possible hail storm. Don't worry about the E30, the paint is shot but it's a good running project car. PM me ASAP if you can assist. Gordon

I haven't heard whether there is a drive. The Drive 4Corners website has a tickler but no info on dates/reservations/hotels

450 views. Hell, I'm selling the car, too. She decided that the STI just needed some sound mitigation (it's so loud), and she likes how "feisty" it is- no doubt, compared to a stock '95 Ti. It's a Boston Green '95 with every option available, apparently, including an LSD. I've done some work, had some paint correction done, installed wheel studs that I don't want to remove, '95 M3 17" wheels with new tires, along with 3 other sets of wheels, and all that other stuff. Just wanting to get what I paid for the car- $6k, for all of it. Car runs great.

For sure. I bet I could the wife to buy into this one as she's dying to spend some time at Crusty Butt. Maybe bring the mtn bikes down for a couple days early...

Hey, where is everybody? Las year we signed up, and then begged off the drives, hoping to get full value out of the D4C THIS YEAR! Thankfully, the hotel was very good about canceling our reservation so we didn't lose a penny. Mr. Schultz saved our reservation and we will hope to attend this year. Please, anyone with details or enthusiasm, post here. Andy, the tail light guy.

And to conclude, we watched them cut the cake and bugged out. And for anyone thinking about the drive, it's already raining here in FC...

I always considered it one of the more punishing duties of marriage. Clean socks are required!

She would kill me if I left here there alone! We're already trying to figure out how to minimize our time with the 200 people that are supposed to be there. Fuck. Maybe you should crash and rescue us!

Drop your wife at the wedding and come by. We'll go for a drive!

Dude! Goes by the house on the way to the Poudre! (Went up and did some white water paddling the other day; it's big.) We're supposed to be in Denver for a wedding Saturday. Might be staying Saturday night, might be coming home. Shoot me a text so I have your number, would you? 970 to two too 9597

The boss and I are going - taking the 435. Anyone else going? Spring Drive -- May 30th I hope the weather's as nice on this all-day drive as the roads and scenery will be... Tom

Just bought the wife a 318Ti, and it came with almost another entire car worth of parts; the COMPLETE interior in very good condition, red doors and hatch, all the glass, gaskets turn signals, radiators, wheels, all kinds of crap, the entire wiring harness. It takes up almost a garage parking spot- wife is not pleased. Let me know if there's interest- I'd accept a very reasonable amount of money or something in trade- I'll take some pictures if there's interest. Or text on 970 to two too 9597. Thanks.

Thanks Dave, I appreciate it.

I'd start with Woody's Wheel Works. If they can't maybe they can recommend someone.

Afternoon, Can anyone recommend a shop in Denver to fix some curb rash? Thanks much.

I seem to have collected a half dozen 4 speed ('232) transmissions that I don't need. The shift mechanisms are gone though. In the unlikely event that someone needs one in the near future, they're $50 cash each. That's half the junk yard price with no core charge, environmental fee or tax, and already pulled... Your choice. First come, first served. Hurry before they're all gone. This offer for a limited time only. (NO) lifetime warranty or 24 hour roadside service included. PM if interested

You want to see the car. The guys at the shop were freaking out when it was up on the rack for the alignment, it's so clean.

I just want to see the car! Sounds like it's amazing! Been a long time since we went picking at the junk yard searching for trunk release parts! Hope the front range is treating you well. I'm out on the western slope these days pretty close to Landon (but haven't seen him). Matt

All can be found here: https://en.wikipedia.org/wiki/Vehicle_registration_plates_of_Colorado Colorado's car plates have changed over the years, but were mostly green and white, with occasional swapping of green mountains for green sky- here's a '69 example: The letters in this era indicate which county- in this case Weld County, according to online info. Later, we got all of the modern perturbations- plates for special causes and groups, and some special editions in some years

Hey could you post a photo of this YOM plate you have...I'm aware of "black" and "blue" plates in CA but I'm curious on the CO equivalent

Victory! Yesterday's mail brought a bit of paper from the Colorado Division of Revenue that looks just like the normal registration but includes a few additional words- "Dual Id" with my vintage plate number. No Fee. No details about rules for using the old plate.

I'll get Jared's phone number for you

Going to have this on there all the time... Cal says,"I'm going to a meeting where my car is the primary interest. Everywhere, everyday." TBF, hard to go anywhere without getting asked about a 2002, even in my car.