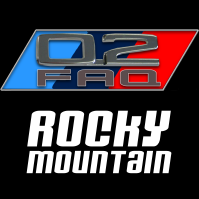 About This Club
A local hangout for those of us 02ers in the Rocky States! (CO, MT, ID, WY, UT, AZ, & NM)
---
What's new in this club

Thank you for the input. Following up with CAM at this point. An M3 put in a 2002 sounds like a project going up a level or two.

Used engines are pretty easy to find. I buy engine stuff from Top End Performance and have had good luck and good advice. TEP has metal head gaskets- I had my engine built at 11:1 because we're up here- he sold the guy that bought my car at sea level a thicker head gasket for down there, so options are definitely available. But it might be easier to just get a good running used engine...

Jim, Terry sends his regards and says its been awhile. Very helpful in looking at what I got. Seems that my block has been bored to 40 over (the max). He is going to hot soak it over the weekend then mic every thing, let me know if honing and a re- ring will do it. Then Suggested I look for bearings for the crank, it currently had standard size and sense we are there, new is practical. he'll also check for flatness of the block. The head brings more concern. It appears to have some surface damage due to possibly pre detonation. which he shared that if compression was raised from over-skimming, it may be toast. Original thickness A129+/-0.1mm with a max of no more than 0.5 mm Thoughts/Solutions? skim a little and thick head gasket? ... to Ireland engineering? some where in the middle. For now, Looks good in my garage

Jdddrigot

joined the club

Zoeydebord

joined the club

I have had good experiences with Colorado Automotive Machine located on W. Union just west of Sante Fe. Terry is a one man shop and knows the M10. He has done work on two engines for me and I know first hand for another person who I referred to him.

Proud new Arvada Co. owner of an 1974 2002 base. EBAY win(?) in Oct of this year. This is definitely a project. Currently Looking to have engine work done to get compression up. Neighbor is helping with re-seating the valves. I am looking for information on local machine shops that can do the bottom right. Not looking to be race ready, just to drive and enjoy. Any one have suggestions/experiences they are willing to share

johnlorio

joined the club

Obtuse443

joined the club

My name is Jeff Gomon. I am Three things, a 2002 owner, South Central Region VP/National Board Member and lastly, in need of your help. Terry Sayther has approached the Board and requested the formation of a stand alone non-geographical BMW CCA 2002 chapter. This chapter would allow for greater communication of 2002 owners and groups everywhere. To get things started signatures from 250 members are needed for the chapter petition. We are over 1/2 way there and need your help. Further, once the chapter has its charter, we will hold elections for a Board and Area "Governors" in all regions. Follow the link below for more info and sign the petition. Below is Terry's message. Thank you!! ------------------------------------------------------------- "We're working our way toward the 250 signatures we need to form a 2002 Chapter of the BMW CCA, and we are over half way there! But…that was the easy half. We need more that a hundred additional CCA Member signatures to meet the requirement. SO---I'd like all of you to think of additional ways we might get more people to sign up, rejoin the club so that you can sign up, give membership gifts so that your friends can sign up, and spread the word! Go to https://2002sforever.net/sign-the-petition/ and sign up now! We are under-represented on the west coast---somebody get those guys motivated, please If you've been procrastinating---stop that! Sign up today. Do it! Many thanks for those of you out there who have been spreading the word and encouraging friends. We appreciate your efforts! Happy Holidays---Terry Terry Sayther Vintage Bimmers

[email protected]

Terry Sayther Automotive 512-442-1361

Husker2002

joined the club

I've got a tii manifold, with a full downpipe, in good useable condition, for free- but you need to pick it up and you need to take an early hood and trunk lid with you. The hood has a little bit of rust, but works just fine- and will include the entire lifting / holding up spring assembly, so it'll be just as I take it off the car.

Tires are sold... no more BMW parts on my garage. But on the bright side, the BRZ is fun and it has Air Conditioning/Heated Seats!

Andy74tii

joined the club

victorp

joined the club

Tires are SOLD. Sad to be out of the 2002 family, but nice to have my garage back!

coloincaalpine

joined the club

Hey this was a while ago so I dont know if you have already sold it but to me based on The nice picsyour price is fair and if you post it a few places I think you would get interest for sure. GLWS

Very cool.thanks for sharing

Nate, I got some body and paint work done at Reflections Auto Body in Wheat Ridge - reasonable price for a really good job. As far as local mechanical work, I'll follow your post.

GONE! A good body probably saved Bud had a body to use I didn't have to go to the junk yard I'll let Bud chime in with details of his project if he chooses

Hey guys! Just moved to Denver from LA. I also picked up a '74 2002 along the way (first project car). I've seen a few posts about body shop recommendations...but nothing really came of it. So I'll echo some of the posts below... any good body shop recommendations or mechanic shops with strong 2002 experience? I reached out to Bimmer Haus up in Broomfield last night, but I want to see if there are any others I should know about... Also, it looks like the Cars and Coffee meet ups fizzled out, are we going to have any more this year? Thanks! -Nate

nhep23

joined the club

Was at Hagerty sponsored open house in Colo. Sprgs. today. First drive for this car since restoration. Everything about it was first class. 1938. I loved those door handles, Bet you don't have to slam the doors on this one.

3

I've decided that I no longer need the 1969 2002 which I've been using as a reference for my 1600 restoration (build dates are ~ 2 months apart). So, it's been offered on Craigslist today: https://denver.craigslist.org/pts/d/berthoud-1969-bmw-2002-body-and-many/6967454636.html This car could be restored with serious dedication (has a title), or there's good sheet metal and other parts. If no interest surfaces, the junkyard awaits another victim... I can be reached thru the CL ad or here by PM Cal

calw

joined the club

Hi, my name is Scott. 2002 fan from back in the 80's and 90's. One of my cars was a Tii, 71 or 72, not sure! I did a terrible thing and modified it to an automatic transmission. Please don't hit me............. I still have the parts that came out the car and now is the time to sell. Was holding on thinking someday my son would grow into an 02er. His first car is a 08 335xi coupe - (what a monster!) so no interest in the parts. So maybe there is someone locally that can use them. I am hoping that you can give me some input on the value for these parts. I have made some calls and looked at ebay. Not a lot of info to be had. Hoping to find out what the goinig price is. The car had approx 85l miles, 25k by me, I bought it after someone botched an overhaul and I got a good deal. They had left out one of the wrist pin keepers, I re-sleeved the one cylinder. It was a great little car. here is the list. flywheel clutch parts transmission 4 sp - 2nd gear sync was worn stick shift and mounting parts - I am keeping the knob as a memo petals and the mounting pan - the pan has a rust hole, but could be repaired - this one is free to a good home drive line - the car had a long pinion rear trans-axle (I lost track of that) There might me more small stuff - I have to dig in the garage and see I have pictures if there is interest. thanks!

S_Q

joined the club

Morning all: I've been part of this forum for a number of years. I'm thinking of selling my 1973 2002 and I wanted to let this group know before I put it in the classifieds or on Bring a Trailer. She's a 1973 that has been updated, redone, rebuilt and generally enjoyed by me for the last 7 years. Purchased locally, maintained by Mark Hutto and driven sparingly. I have a number of spares/upgrades that go along including a brand new car cover. I'm thinking about asking $17,500. I've included a couple of pictures below. Is the price fair given the condition and quality of the car? She's not perfect but a strong driver quality IMHO. Thoughts???

RipR2

joined the club

OK... here's what I have at the moment... great prices!!!! All of these are "pick up from my house only"... but the only caveat is that you have to tell me all about your 2002 while you are here. I will consider offers... and may combine beer offers. All I have left is the tires!!! Wheels and Tires: $400 -Wheels: TR Motorsports C1 Bright Silver 15x7 25mm offset -Tires: BFGoodrich g-force rival 225/45zr15 with at least another Autocross season left. Stored in garage (never frozen). -Includes lug nuts.

Hi. Sorry to hear about your car. I would be interested in your LSD if it's still available. Let me know. Thanks. Doza.

Hi Haran . I'll be there. Hope others will attend and we can park together. Doza

I finally have a weekend off and was wondering if anyone here is going? I've noticed doza59 has been trying to organize a group for this C&C and am down to join this weekend! hope everyone had an awesome 4th haran

Fuck. But BRZ with a supercharger is legit. :)

Thanks for the feedback Gary and Chris. Since I posted, the body shop (Auto Reflections in Wheat Ridge) has given me a completion date (July 7), so I'll stick with them for now. They did some really good work for me about two years ago, and the color match to my original Tampico paint was great. Apparently he's had some issues hiring and keeping good help - not uncommon along the Front Range these days. I'll post the results in a few weeks, then it's on to the new headliner, windshield (and rubber), and sunroof seals; and a bunch of other stuff. Can't wait!