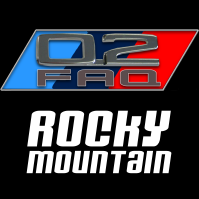 8. Rendevous at Vera Rubin Ridge
---
---
This image taken from NASA's Curiosity rover shows a great two-tone 2002 after it's made the long trek around Vera Rubin Ridge to meet-up.
The panorama includes umber skies, darkened by an invading global dust storm. The 2002 is considering the likelihood of being able to head back to base before getting caught out in it.  And hoping it won't be forced to hunker down with Curiosity alongside the Ridge until the storm passes.
Our photo also includes a rare view by the Mast Camera of the rover itself, revealing a thin layer of dust on Curiosity's deck. In the foreground is the rover's most recent drill target, named "Stoer" after a town in Scotland near where important discoveries about early life on Earth were made in lakebed sediments.
This and other panoramas show details of the sedimentary rocks that make up the "Vera Rubin Ridge" which has been a favored destination for 2002 excursions ever since Curiosity showed the world images of the great terrain. This distinct topographic feature located on the lower slopes of Mount Sharp (Aeolis Mons) is characterized by the presence of hematite, an iron-oxide mineral, which has been detected from orbit. The Mastcam images show that the rocks making up the lower part of the ridge are characterized by distinct horizontal stratification with individual rock layers of the order of several inches (tens of centimeters) thick.
---
UPDATE: This might be the last communication with Earth by the 2002 Mars expedition team for the next several hours (days?), as this dust storm looks about to blanket the teams location on the western rim of the Ridge, blocking out so much sunlight that battery charging will be shut down until the storm abates and the skies clear.  This sudden planetary dust storm is likely to play havoc with the Le Mars race too (bad mojo).
As of the time of this last transmission - we're awaiting info from base to see if they will be attempting an emergency recovery…
Copyright
© all rights reserved - 2019 visionaut
---
From the album:
9 images
0 comments
1 image comment
---
Photo Information for 8. Rendevous at Vera Rubin Ridge