Motor drop
Take lots of pictures, everything, every angle.
Disconnect everything, wires, hoses, distributor cap. You may want to remove the front grills and radiator but I don't think that was necessary.
Leave the rear wheels on the ground, well chocked.
Raise the front end.
Front of car secure on jack stands.
Remove the front wheels.
Remove the bracket on the strut that holds the rigid brake lines
Remove the brake calipers and hang them from something with something.
Get the car high enough to get a jack under the front sub-frame. A floor jack or an ATV/motorcycle jack works fine.
Disconnect all the shifter/transmission stuff from the tunnel.
Disconnect any and all electrical wiring
Disconnect fuel lines
Disconnect the exhaust at the downpipe
Disconnect the strut bearings from the inner fenders.
Now, with the sub-frame/motor balanced,lower it slowly, with a friend watching, to make sure everything clears the frame rails. The shifter and distributor tend to be the things that hang up.
Once the motor clears and is as low as the jack allows, move your attention to the floor jacks and start moving the car up until the motor will clear the front valance. Pull it out, lower the car.
Watch the struts, they want to fall outward. Have someone hold them or bungee cord them to something.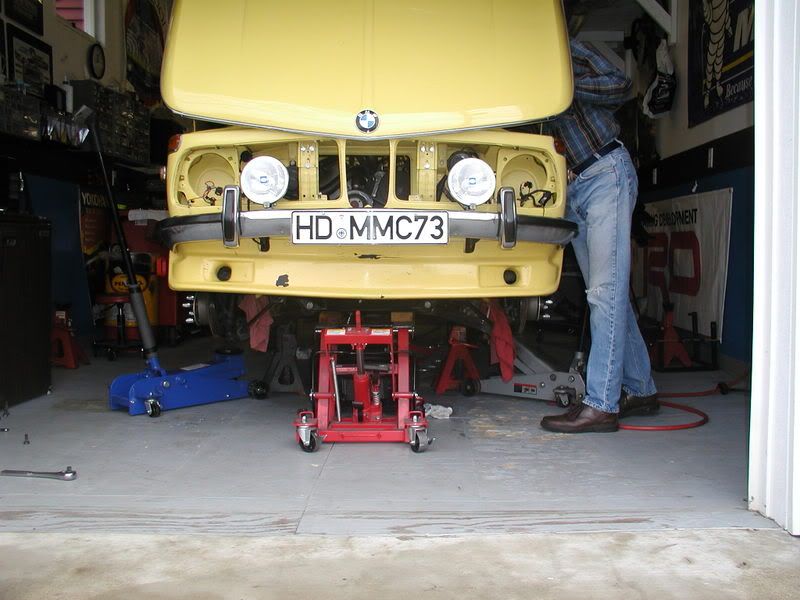 Down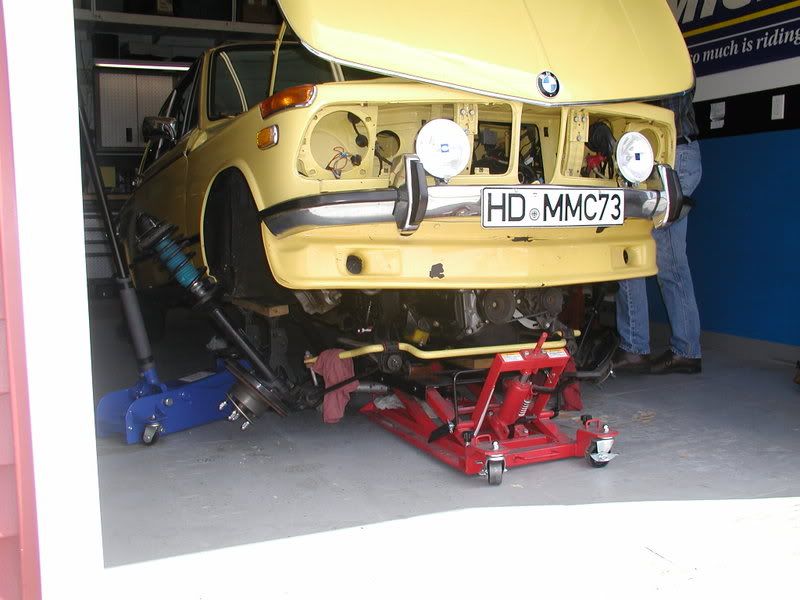 down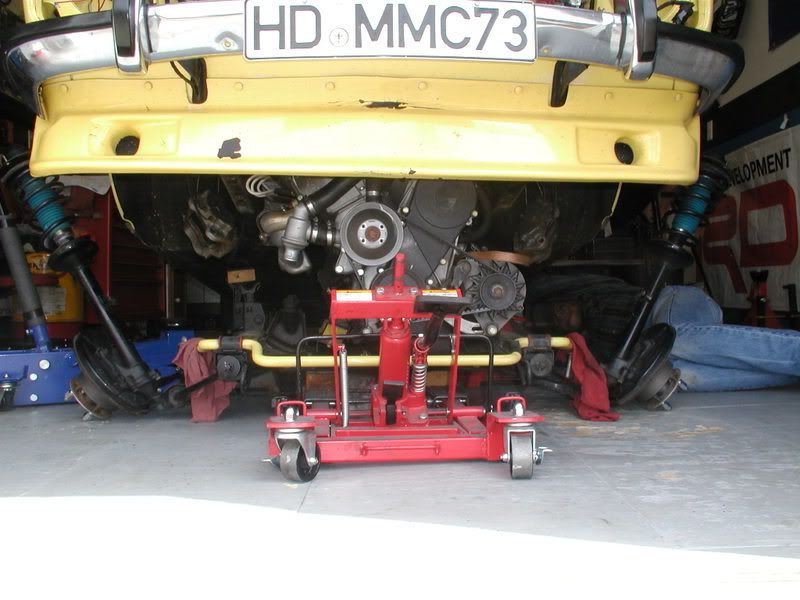 down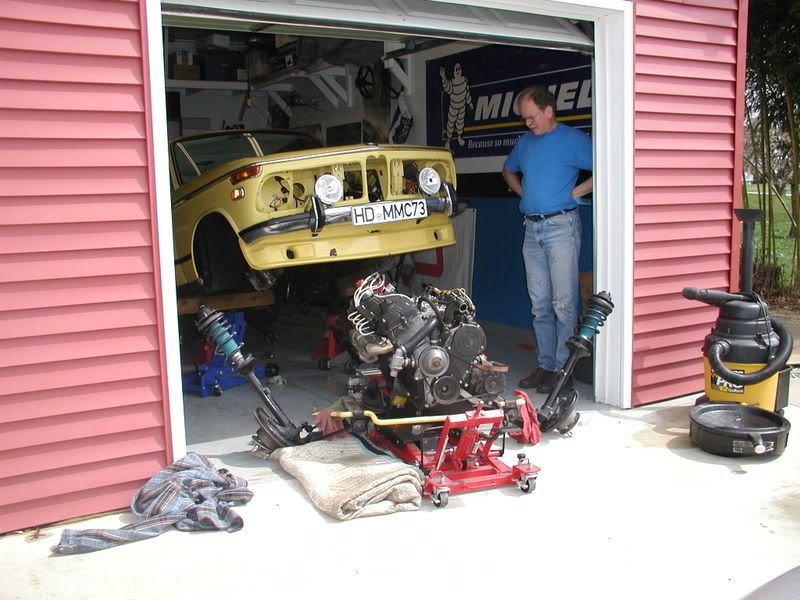 out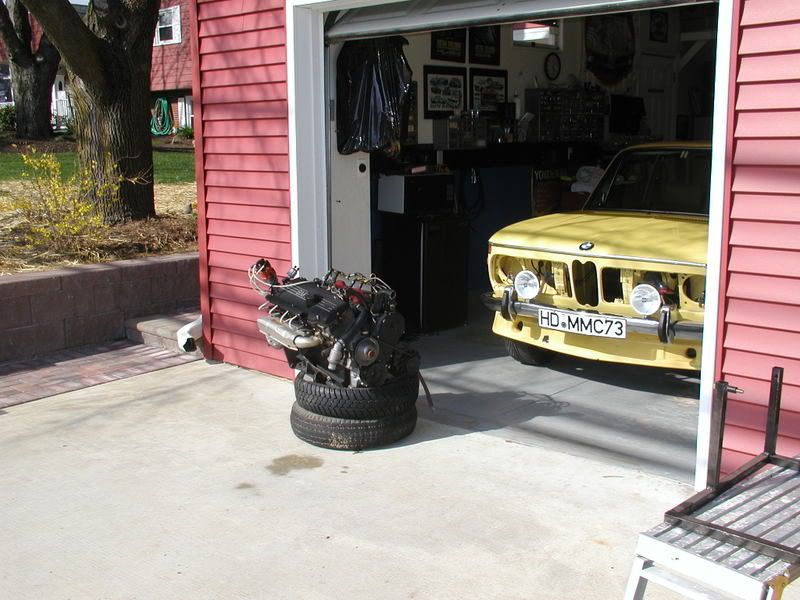 away
Motor plant
Mating transmission to motor the hillbilly way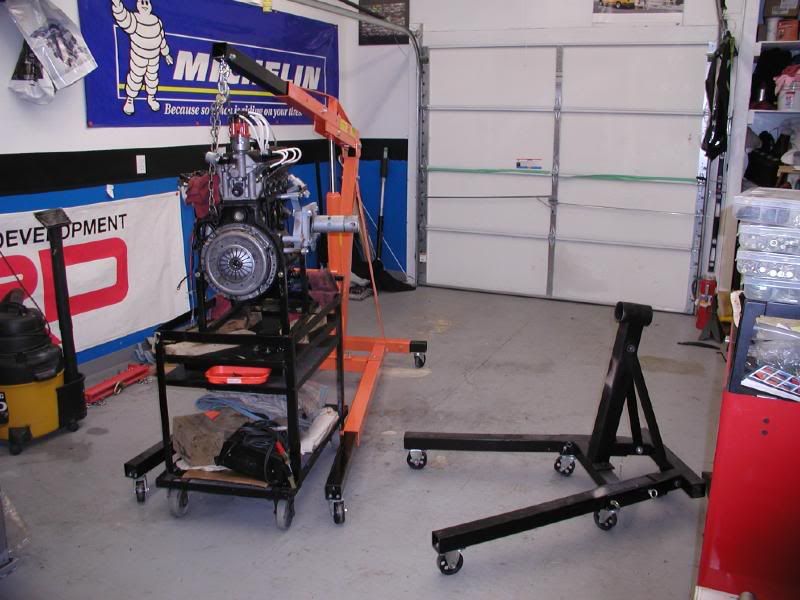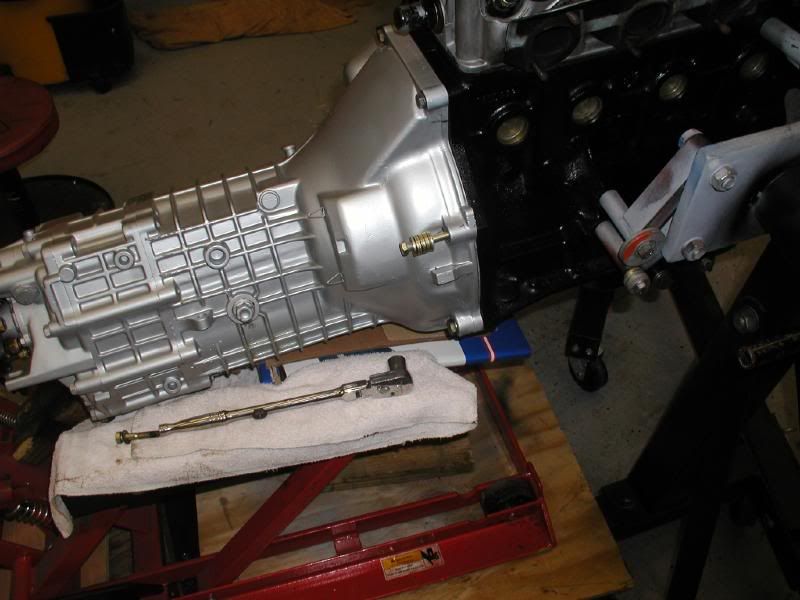 Motor plant today with the help of Bill Riblett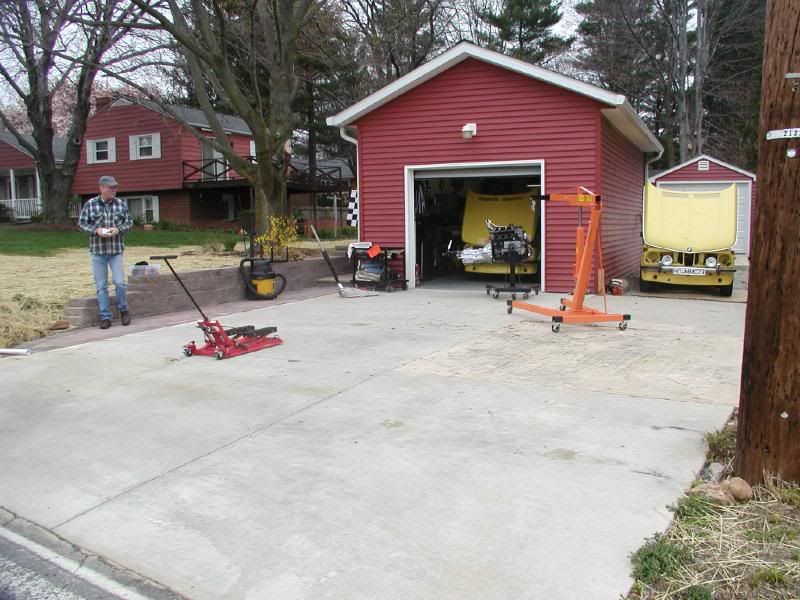 Pick a nice cold day to work.....
Mate the transmission and motor
Mate this to the sub-frame
Balance sub-frame on jack
Lift car far enough for the motor, sub-frame, jack to go under the front valance.
Move the motor under the car. Eyeballing it to make sure everything will clear, line up the shifter.
Lower the car as far as you can, slowly, having a friend to watch everything. The car should either go so slowly you can hardly see it move or lower it a bit at a time, stop, look, lower, stop, look, you get the picture.
Now raise the motor until the sub-frame mates to the frame rails. (Watch and align the strut studs through the inner fenders.) Use a big punch, 10incher, to line up the holes in the frame rail and the sub-frame. Secure the bolts and tighten. If these fight you, get longer bolts of the same diameter and pitch. Use the longer bolts to get things lined up. Pull the sub-frame and the frame rail together, when you can, change out the longer bolts for the properly sized bolts
Secure the shifter stuff and transmission mount and support. Make sure the speedo cable is inserted before the transmission support it put into place.
Reattach the brake line brackets and the calipers.